Behavioural, Ecological and Socio-economic
Tools for Modelling Agricultural Policy
Modelling policy impacts on ecosystem services and biodiversity: The BESTMAP Summer School
Understanding the environmental impacts of agricultural policies, including measures such as agri-environmental schemes (AES) or organic farming, is a crucial step in assessing their effectiveness in European farmlands. Scientific models play an important role in quantifying such impacts, especially on biodiversity and ecosystem services provided by the agricultural landscapes.
In that context, BESTMAP is happy to once again invite you to the project's first Summer School on modelling policy impacts on ecosystem services and biodiversity, which will take place in Olomouc, Czech Republic on September 12–16, 2022 and is organised jointly by Palacky University Olomouc, University of Leeds, UFZ–Helmholtz Centre for Environmental Research, TU Dresden and other partners involved in the European project BESTMAP.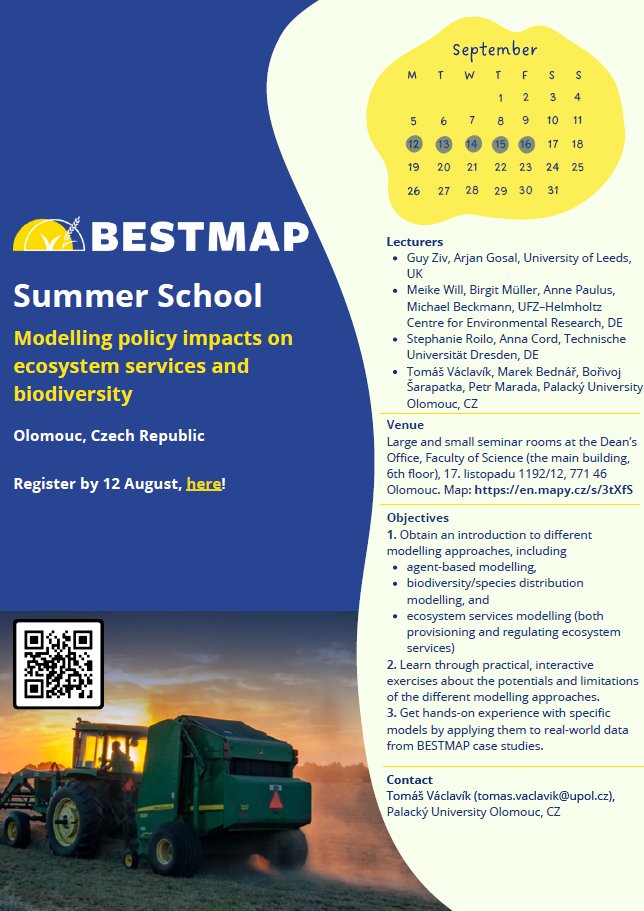 You can download the full agenda here.
BESTMAP partners which will be lecturers at the event are Guy Ziv, Arjan Gosal, University of Leeds, UK, Meike Will, Birgit Müller, Anne Paulus, Michael Beckmann, UFZ–Helmholtz Centre for Environmental Research, DE, Stephanie Roilo, Anna Cord, Technische Universität Dresden, DE, Tomáš Václavík and Marek Bednář, Bořivoj Šarapatka, Petr Marada, Palacky University Olomouc, CZ.
The three main objectives of BESTMAP's summer school are:
Obtain an introduction to different modelling approaches, including

agent-based modelling,
biodiversity/species distribution modelling, and
ecosystem services modelling (both provisioning and regulating ecosystem services)

Learn through practical, interactive exercises about the potentials and limitations of the different modelling approaches
Get hands-on experience with specific models by applying them to real-world data from BESTMAP case studies
PhD students, early-career researchers, as well as Master's students with relevant backgrounds in the field of agriculture-environment interactions are all welcome at the event.
Registration and attendance are free of charge. Participants are required to cover their travel and accommodation expenses. However, BESTMAP's team is able to support three participants with a travel award of 300 EUR. If you would like to apply for the travel award, please upload the PDF of your Statement of Purpose in the registration form, specifying why you are applying for the travel award and how the Summer School may be beneficial for your future career.
BESTMAP's team invites you to register for the Summer School by filling out the online form by August 12, 2022.